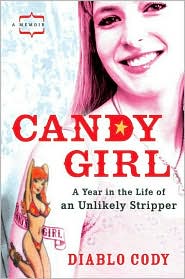 When my friend Reeder told me she was reading a book by Diablo Cody, I was excited (and for the record, Cody wrote this before she became a household name). When she told me it was about Cody's year as a stripper, I was even MORE excited. Like many people, I am both repulsed and intrigued by these dazzling meat markets, and wanted to get behind the scenes.
Cody was also curious: feeling listless from the mundane existence of an entry-level cubicle minion, she decided to do something that both terrified and excited her — sign up for Amateur Night at a Minnesota strip club. It was supposed to be one night — it didn't even go particularly well — but the thrill was enough, and for a while she was a filer pusher by day and a pole rider by night. Cody offers the full backstage tour of numerous strip joints as she tries out new employers, even abandoning stripping per se to working at Sex World," a circus themed porn emporium," as a live and interactive version of a sticky skin rag.  While she never prostitutes herself, Cody does report that many of the strippers do — sometimes blatantly (after hours), and sometimes by blurring the boundaries of acceptable interaction with customers.
Cody never really passes judgment on the strippers themselves, who, despite everything, she admires, and certainly there she's not throwing down any feminist theorists to criticize the compartmentalization or dehumanization of women. She supports the strippers themselves, and their right to make money with their bodies:
I'd always believed in the potency of women. I'd supported and participated in the sex industry even as it was buffeted with criticism from people who felt it objectified us. I'd felt like such a libertine dancing onstage to AC/DC or masturbating in a glass box for some civil engineer. I argued with any well-meaning friend who dared to insinuate that I was devaluing myself. There was a reason men paid ridiuclous sums of money for the company of an exaggeratedly feminine creature. Because strippers are spectacular. They rule.
But that's not to say she doesn't offer  criticism of certain elements of the system.  For keep in mind, to have power is to have power over someone else. Sex can give a woman power, but only if the other party is interested. On the other hand, everyone is interested in money, so who's got the power? The man with the dollar dollar bills y'all.  Cody explains:
Hundreds of girls on the floor at some clubs, all reduced to begging dogs for an army of smug little emperors. The rules of attraction were reversed at a strip club. Girls that could halt midday traffic at Nicollet Mall were rejected by fat guys wearing Zubaz. Joe Punchcard with $20 could toy with several dancers over the course of an afternoon, finally selecting the one who'd receive the dubious priviledge of entertaining him for three and a half minutes. The rejected girls, regardless of how loved they were by husbands or paramours or infants at home, would feel worthless for an instant, and all because of ol' Joe.
It's an interesting point-of-view — the biggest problem isn't the theoretical commodificaiton of women, but rather the effects of supply and demand on their self-esteem. Cody is happiest when she goes out and has fun, when her success isn't determined by her bank.  But banking matters: they usually have to perform a certain number of dances per night or they end up paying the house — pimps aren't just for prostitutes, and managers make a killing on these womens' successes and failures.
And of course we shouldn't point the finger at men only. Cody's most dehumanizing experience comes at the hands of the women who would pass through Sex World and degrade her, sneer at her, laugh at her. For here Cody was the most vulnerable:  at least with men the strippers had the power of their sexuality, but they held nothing over heterosexual women. Strippers who feel bulletproof on stage can be wounded by the derisive giggles of bachelorettes seeking penis-shaped cake pans for their one night to be "bad girls."
Reading this platform-clad romp through sex shops and strip clubs, one can't ignore that Cody's writing from a privileged position. She's not drug addicted, she has an education, a middle class family, and a supportive partner. This is a rebellion against the system, a way to assert her free will and indulge a whim (a liberty that belies her middle class status). But because of this perspective, the whole thing comes off a little less sinister. The irony is that by slipping through the fingers of "the man," she ends up in the sticky fingers of "the men." I guess it's the ability to choose that matters here — to throw off the shackles of middle-class servitude and throw on the fuzzy handcuffs..
It's a fascinating tale, written with Cody's trademark sharp-as-a-dominatrix's-whip prose. If you're looking for moral ground, you'll be dissapointed, because although Cody is both perceptive and sympathetic, she's realized it's impossible to judge, nor does she want to. And given the nature of this voyeuristic account, can we come down on those who keep the industry running without a whiff of hypocrisy. Regardless of our moral opinions , curious readers such as myself are also saddled up at the tip rail, having tucked our$17.50 into Cody's KISS thong when we took the book home. After all, sex sells.